---
The Aicher House in Chieming
The Aicher House in Chieming has been in existence for more than 400 years. The landlord was the "Hofmark Chieming". The house was named after Leonard Aicher, who lived here starting in 1599 and used it as his pottery studio.
The idyllic house is located right by the Lake Chiemsee (50 meters away.) In the immediate vicinity we have the harbor, the beach, waterfront restaurants, beer gardens, and cafes. In the warm season there are regular boat trips to the Chiemsee islands and other port towns around the lake.
The surrounding area also includes Chiemgau with its famous, beautiful landscapes. The Chiemgau Alps have mountain lakes and moor areas, which has one of the largest and best-developed cycling and hiking areas in Germany.
The house was completely ecologically renovated and modernized in 2014/15, largely in terms of energy. A pellet solar heater is responsible for the heating of the house and its water. The arches and vaulted ceilings typical of the region have been preserved.
In the garden, the former wash house has been converted into a patio. Our guests can use this space at any time. You may also use this space for a barbeque!
Our two quiet mastiffs live in the house. Püppi and Cuba warmly welcome you - and your pet too upon request!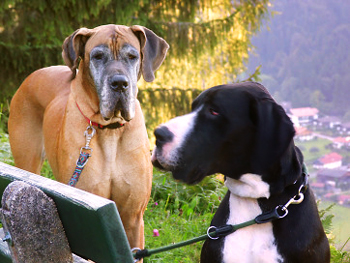 ---
The Holiday Apartments
---
The apartments on the ground floor have spacious, handicap accessible bathrooms. All kitchens are equipped with a stovetop and oven, coffee machine, kettle and all equipment needed for cooking a nice meal. The apartments are modern and comfortably furnished. Some antique or Bavarian pieces of furniture create a comfortable atmosphere for the old house. Each apartment has a TV and an Internet connection.